OUR OLD CHANNEL GOT BLOCK KINLDY JOIN THE NEW CHANNEL
Kizz Daniel released a new song last week Friday titled "Fuck you." Since the release of the song, it has been trending all over the internet as different people have been seen doing videos of themselves miming to the song and pasting it on their social media pages.
When the snippet of the song first stormed the internet, what was heard came as a huge surprise to music fans as they thought the music industry is about experience one of the greatest dilemma of all time. In the snippet, Kizz Daniel is heard calling Wizkid, Don Jazzy and other artistes' names while singing "fuck you," quickly making fans conclude the song is a major diss track for other artistes in the industry. But when the song dropped, it caused confusion as to what exactly the concept of the song is, some people however feel it's just banter and a way Kizz wants to show his music prowess but again some feel it is a shade to other artistes, calling Kizz an hypocrite for trying to throw shots indirectly. They feel he intentionally makes the lyrics confusing.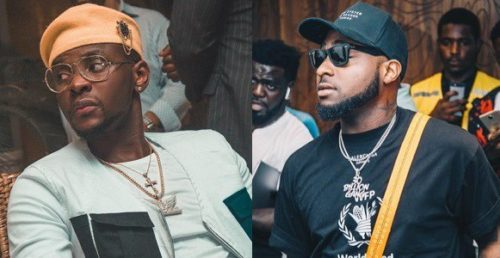 However, of the names mentioned on the song, there was a big omission, according to music fans. Due to the fracas that happened between Davido and Kizz Daniel's manager that prompted a report of the OBO slapping Kizz's manager, people were expecting Davido's name to be to mentioned on the song, but to everyone's surprise, he was missing, making everyone believe the beef between the two could have been talked over.
But just when people were having this thought, Kizz Daniel posted a video of himself freestyling to the new jam, "fuck you"on Instagram in which he now calls Davido's name.